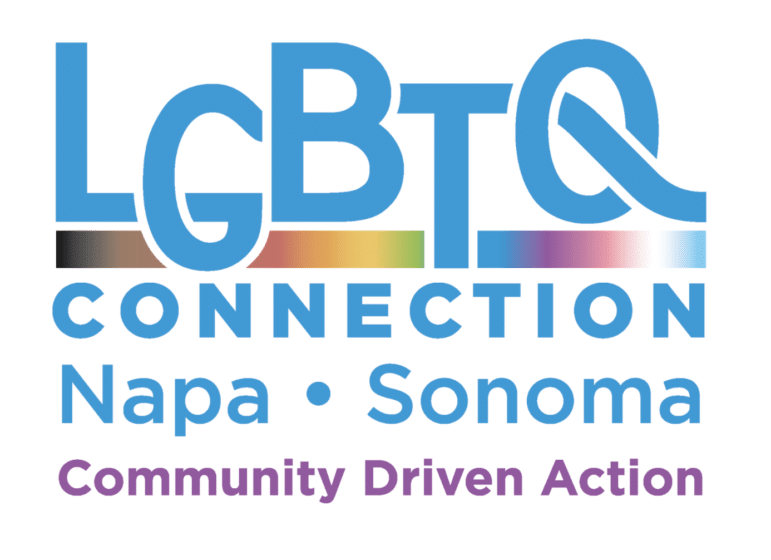 LGBTQ Connection exists to foster a healthy, diverse and inclusive community, driven by emerging leaders in the rural and suburban north SF Bay Area.
Napa and Sonoma Counties are only an hour north of San Francisco, but they are world's apart in terms of visibility and community for the lesbian, gay, bisexual, transgender, queer and questioning people in those communities. To address the glaring lack of resources and inclusion, LGBTQ Connection was born in the Spring of 2011.

LGBTQ Connection, an initiative fueled by youth and emerging leaders, annually engages 3,500 LGBTQ people, their families and community, and trains 500 providers from local organizations across Northern California to increase the safety, visibility and well being of LGBTQ residents. In Napa and Sonoma Counties the program operates local LGBTQ community centers, supporting underserved LGBTQ youth and elders. The Napa and Sonoma offices of LGBTQ Connection each provide a safe and trusted space to cultivate hubs of vibrant activities and caring community.
LGBTQ Connection is building an intergenerational community movement in the North Bay fueled by youth and young adult leadership. The program's Youth Leadership Teams (YLTs) empower youth to take action now, to identify and prioritize LGBTQ needs and to facilitate a community response. The teams are a critical part of a pipeline of leadership development and are core to sustaining efforts that are connected and matter. There are currently teams running projects across Napa and Sonoma Counties with youth from Napa, Santa Rosa, Sonoma, Calistoga and nearby communities.
Additionally, the staff consists of:
Ian Stanley Posadas, he/him/él, Program Director
Jessie Hankins, she/her/ella, Program and Evaluation Manager
Stephanie Ramirez, she/her/ella, Program Coordinator
Isamar Alamilla, he/him/él, Program Coach
Fernando Espinoza, he/him/él, Program Coach
Daisy Zamora, she/her/ella, Youth Advocate
Gwendolyn Dean, LCSW, she/her/ella, Mental Health Counselor
Dennis Reno, PhD, he/him/él, Mental Health Counselor
Erika García, she/her/ella, Promotora
As public health concerns brought on strict shelter in place orders in March of 2020, staff and leadership began conversations and planning for virtual/online program delivery and other creative ways to connect with and support youth. Staff already have been facilitating online youth social events and had success (and positive feedback from youth leader participants) in convening a special youth leadership team via the internet. Online video calls and other "virtual" options will continue to be used through at least the end of 2020, even as the team plans experiments for some safe in-person options for youth social events and gatherings.

The program successfully implemented 15 events for Pride month during June 2020, including participation in two protests/racial justice solidarity marches in Napa and Santa Rosa, and one Pride cruise night through downtown Napa. Additionally, On The Move continues to work to ensure the safety and well-being of staff and participants, as well as partner in countywide collaborative disaster response, disbersement of emergency financial assistance, sharing of resources, and keeping community centers open for youth who rely on them for food, daytime shelter, and staff support. Throughout the month of September staff resumed working from the Napa and Santa Rosa community centers, ensuring open hours from 10a-3p Monday through Thursday for drop-ins, phone calls and appointments. The program's Napa drop-in mental health counselor will also resume one day a week in-person appointment options beginning in November.
November also brings the addition of special drop-in support hours for LGBTQ victim's of crime,
co-hosted by the Napa County District Attorney's office.